As I've mentioned several times, Wednesday was the first day of early voting here in Tennessee. Here are a few
photos of the day
by yours truly: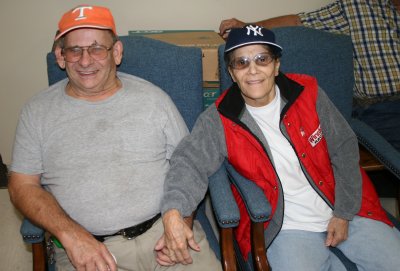 The first voter.
Mary Fearey, right, of North Knoxville, arrived early at the downtown polling place, and was adamant that she be the first to vote. She was quite a character. She's sitting with her husband, who was voter #2. I didn't ask Mrs. Fearey who she was voting for, but I'm guessing it wasn't Obama: you can't see it here, but on the rim of her Yankees hat was a
Duncan
sticker.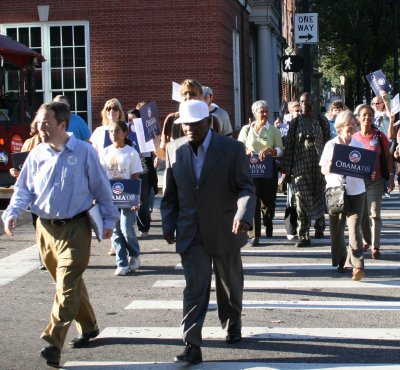 The first-time voter.
James Howell, 74, led Obama supporters' "
march to the polls
" Wednesday after giving a speech outside the campaign headquarters, in which he revealed that he had just now registered to vote for the first time in his life, and urged young people not to make the same mistake he did in staying uninvolved for so long.
Walking next to Howell, incidentally, is Kevin Barry, vice chairman of the Knox County Democratic Party, who suggested at the pre-march rally that Obama might have a shot in the solid-red Volunteer State. "Tennessee's closing," he asserted, "just like Georgia's closing, just like the other states are closing." Alas, I must have missed the
polls
that show Tennessee "closing." ;)
For what it's worth,
Five Thirty Eight's model
gives Obama a 1 percent chance of winning Tennessee. (So you're saying there's a chance!) But don't tell that to the Obama supporters I met yesterday -- they were plenty enthusiastic. And, heck, I bought a bumpersticker and a button, and festooned my car with a pair of Obama rally signs, so I'm hardly in a position to mock anyone for passionately supporting a lost cause here. :)
Speaking of the Volunteer State...
The Volunteer.
I didn't get this guy's name, but I loved his shirt. And, coincidentally enough, the Tennessee Volunteers probably have about as good a chance of winning the
SEC
this year as Obama does of winning the Volunteer State! Heh.
The young Democrat.
This kid was the life of the party at the rally. He got the crowd started with a rousing chant of "O-BA-MA! O-BA-MA!" His proud papa -- who is wearing a t-shirt from local business
Yee-Haw Industries
-- didn't seem to mind having an Obama sign directly in front of his face.
Last, but not least...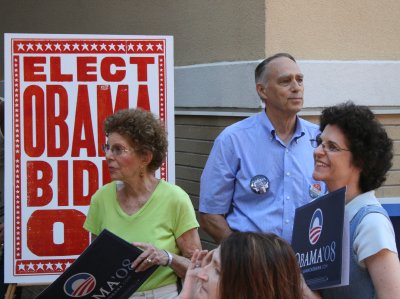 The Congressman?
Bob Scott, Democratic candidate for Congress, listens to a speech at the pre-march rally outside the campaign headquarters. Scott, whose shoestring campaign consists mostly of a
website
and a prayer, faces overwhelming odds in his bid to unseat 10-term congressman
Jimmy Duncan
from a House seat that has been held by Republicans continuously since 1873 (and by Duncans continuously since 1964; Jimmy's father,
John Duncan, Sr.
, held the seat for 12 terms, then died in office and was succeeded by his son John Jr., a.k.a. Jimmy).
Again,
here is my Election 2008 photo gallery
in full. It stretches all the day back to January. To view just Wednesday's photos, go to
Page 1
,
Page 2
and
Page 3
.