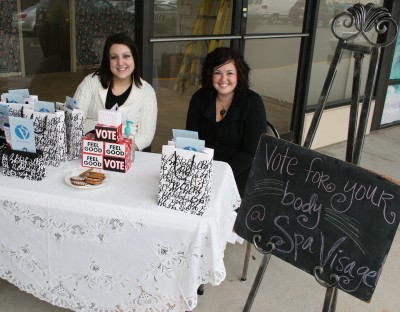 These ladies, employees of nearby Spa Visage, offered early voters goodies as they left the polls Friday afternoon: a bag of free spa products, a free cookie, or, for $2, a
bar of soap that says "VOTE."
These gentlemen, a pair of young Republicans, tried to catch voters on their way
into
the polls, and convince them to
vote against two amendments
to the Knox County charter. The guy on the left also informed me that Barack Obama would not be eligible to serve as an FBI agent or a federal law enforcement officer because he "associates with a known terrorist." He presented this as if it were a legally operative fact.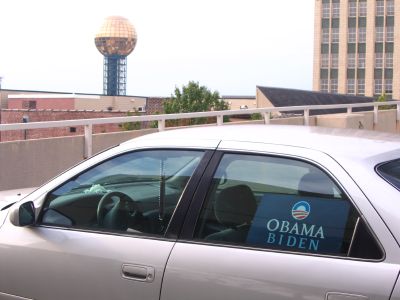 Alleged terroristic ties notwithstanding :), I've given into Obamamania and festooned my car (seen here in downtown Knoxville, with the Sunsphere in the background) with campaign paraphernalia this week. See also
here
and
here
. There are actually a surprising number of Obama bumper stickers around town, given Knox County's strong Republicanism. Apropos of which, here's an
interesting article
on political diversity in Knoxville, linked by
InstaPundit
yesterday.
A rather amusing pro-Palin t-shirt for sale at the local GOP/McCain headquarters, showing a "pitbull with lipstick."
More here.