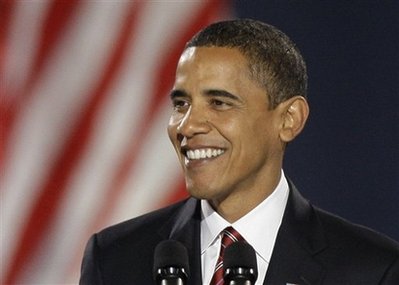 Wow. Woohoo! What a night.
As I go to bed, Obama leads 338 to 159 in the electoral vote tally, and 52% to 47% in the national popular vote. Obama has won all the Kerry states plus Florida, Virginia, Ohio, Iowa, Colorado, New Mexico and Nevada -- and he may not be done.
Indiana
,
North Carolina
,
Missouri
,
Montana
, and Nebraska's 2nd Congressional District remain uncalled -- and, as a result, the
BrendanLoy.com Electoral College Contest
remains completely up in the air.
Also uncalled: U.S. Senate races in
Georgia
,
Minnesota
,
Oregon
and
Alaska
. The Dems are presently sitting on 56 seats (including Lieberman and Sanders), a gain of 5 seats and counting.
Because Becky is sick, and thus I'm on baby duty tomorrow, I can't promise when I'll be able to update the contest standings and such... but I will certainly try to do so ASAP in the morning or early afternoon.
Thanks to everyone who participated in the
Election Night Liveblog
, a.k.a. the "Mother of All Liveblogs." It was fun. Here's the archived version of liveblog (
sans
the simultaneous
livechat
), for posterity:
Yes We Can!
P.S.
Oh, and
way to go, Buffalo!
;)